IU MEXICO GATEWAY NEWSLETTER
FALL 2019
We are pleased to share with you our second IU Mexico Gateway Newsletter, which highlights events and activities that took place at the IU Mexico Gateway in summer and early fall 2019. Participating IU Schools have included the Eskenazi School of Art, Architecture & Design, the Kelley School of Business, the School of Nursing, the Hamilton Lugar School of Global and International Studies, the School of Engineering, the School of Public Health, the Maurer School of Law, and many departments within the College of Arts & Sciences. These events and activities have been hosted by the IU Mexico Gateway with support and collaboration from our Mexican partners, particularly at UNAM and its Coordination of International Affairs (CRAI). In addition to deepening our collaboration with UNAM, the IU Mexico Gateway events have established vital relationships with key entities in Mexico City, such as the U.S. Embassy in Mexico, La Casa California, IMUMI - Institute for Women in Migration, the National Perinatology Institute in Mexico, CEMDA - Mexican Center for Environmental Rights, among others.
| | | |
| --- | --- | --- |
| | | |
| Christiana Ochoa, Academic Director | | Beth West, Director |
A message from the IU Mexico Gateway Director

After nearly two years as Director of the Mexico Gateway, and over 11 years managing projects and programs in international education in Latin America, I have made the difficult but exciting decision to return to the U.S. and pursue the next phase of my career. It has been a pleasure working with so many wonderful and talented faculty, students, alumni, and staff from both IU, UNAM, and other institutions and organizations in Mexico and beyond. A very special thanks to Christiana Ochoa, Academic Director of the IU Mexico Gateway, Lucero Guillen, IU Mexico Gateway Program Assistant, Ally Batten, Director of Gateway offices, and Lizbeth Campos and Dr. Francisco Trigo, from the office of Internationalization at the UNAM.

We have achieved wonderful things working together in a short time, and I am certain that the next IU Mexico Gateway Director will build on this strong foundation. With much gratitude and best wishes for success in the future. #GoHoosiers!

IU has begun the search for a new Director of the IU Mexico Gateway. More information about this position can be found here: https://global.iu.edu/presence/gateways/mexico/job-vacancy-director-indiana-university-mexico-gateway.html. Please feel free to distribute this advertisement widely.
OUTREACH EVENTS
Indiana's Lieutenant Governor Suzanne Crouch visits Mexico City
| | |
| --- | --- |
| The Lt. Governor of Indiana, Suzanne Crouch, accompanied by a distinguished delegation of Indiana businesses including the Indiana State Department of Agriculture, the Indiana Office of Tourism Development and the Indiana Economic Development Corp, visited Mexico City in July 2019.  The U.S. Embassy in Mexico held a reception in her honor, to which several members of the Indiana community in Mexico were invited, including IU Mexico Gateway Director Beth West and Academic Director Christiana Ochoa. Charge de Affairs, John Creamer made special mention of the presence and reach of Indiana University's Mexico Gateway. | |
COMEXUS-Fulbright Fair 2019
In late June, Indiana University Mexico Gateway staff, together with Becca Trestler, Assistant Director of Special Programs from the Office of International Services in Bloomington, were participants in the Annual Comexus Fair. Organized by COMEXUS (the Fulbright Association in Mexico),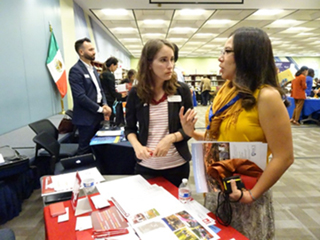 this event offers a limited number of select U.S. Higher Education institutions the opportunity to connect directly with recently selected Fulbright- Garcia Robles Fellows. Ms. Trestler and Gateway staff spoke with many interested graduate level students about the variety of programs and benefits of studying at Indiana University.
The Big Ten Academic Alliance visit the Gateway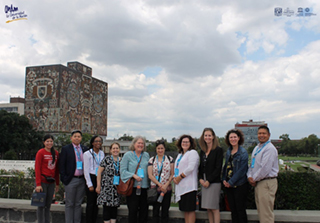 As an active member of the Big Ten Academic Alliance (BTAA), Indiana University provided support from the Mexico Gateway during the BTAA's visit to Mexico City during the week of June 23, 2019. The week-long professional development seminar was the culmination of a semester-long online training professional development course for mid-level administrators involved in internationalization efforts at BTAA member institutions. The IU Mexico Gateway contributed to the design of the BTAA Delegation's agenda and provided logistical support. BTAA delegation members met with staff from the Public and Cultural Affairs Office the United States Embassy in Mexico, toured the IU Mexico Gateway, and met with senior internationalization officials at the UNAM. The BTAA Mexico Delegation also enjoyed a number of activities designed to highlight the richness and diversity of Mexican culture.
Earlier this summer, Professor Cesar-Felix Brasdefer, Director of the IU Center for Latin American and Caribbean Studies (CLACS)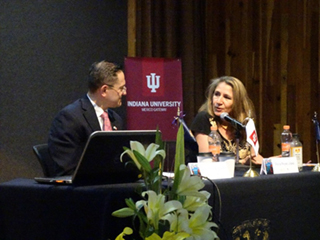 delivered an academic lecture titled "Effects of the Immersion Study Context Abroad in the Pragmatic Competition of Spanish L2" at the UNAM with the support of Dr. María Reyes and Mtro. Moises López from UNAM's Centro de Ensenaza para Extranjeros (CEPE).
Launch of the winning IU Presidential International Research Award (PIRA) project.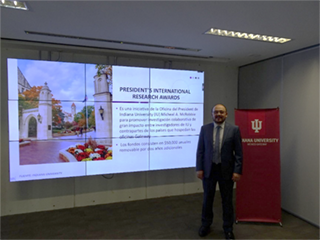 Research between Professor R. Armijos and Margaret Weigel both, faculty of Indiana University (IU) and researcher Norma Galindo of the National Institute of Perinatology, was shared during the launch event of IU's 2019 PIRA Award for research efforts in Mexico. The team will conduct a study of Maternal - Perinatal Effects of Cutaneous Leishmaniosis, in a population endemic to the state of Tabasco, Mexico.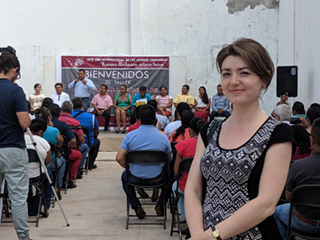 A 2018 PIRA Award recipient, Dr. Manuel Campos (School of Education) conducted a workshop on the Linguistic Diversity of the Cuicateco People, in Cuicatlán, Oaxaca, Mexico.  Between 120 and 150 people attended one or both days of the workshops, including the Mexico City group composed of 12 teachers and research assistants affiliated with the UNAM, Indiana University, the College of Mexico and the National School of Anthropology and History.
| | | |
| --- | --- | --- |
| | | |
"How the Moon Can Save the Earth", a lively and interactive workshop held in summer 2019 at the UNAM's Universum Science Museum, gave Indiana University professor, Dr. Peter Schubert, director of the Richard Renewable Energy Center, the opportunity to interact with nearly 40 Mexican students aged 12 to 15 years old, during which students worked in teams to make a small solar panel powered satellite. Peter Tattersfield, Senior Advisor & Business Development with U.S. Renewable Energy, Company Invenergy and President, IU Mexico Alumni Chapter also participated in this workshop.
The Workshop Brazil - Mexico - US Collaboration: Tepoztlán Institute for the Transnational History of the Americas.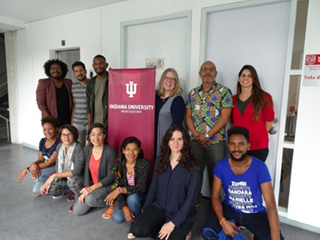 The participants of this one-day Mexico Gateway event were drawn from networks associated with the Tepoztlán Institute for the Transnational History of the Americas, an annual gathering between Mexican, North American and Brazilian academics. Connections were deepened vis this IU Mexico Gateway event, which provided a platform for new research collaborations focused on innovative transnational, collaborative scholarship.
VICTORIA COLLINS, AN IU TINKER FELLOW ON HER SUMMER RESEARCH AT THE UNAM AND WORKING WITH THE IU MEXICO GATEWAY
"On Sunday, August 4th, I was fortunate enough to attend the "Banderazo de Inicio a las Obras de la Restauración Ecológica y Cultural de Canal Nacional", an event held near SACMEX's Planta de Bombeo in the Mexico City borough of Coyoacan. The event celebrated the beginning of a massive project to restore the National Canal. Relevant Mexico City politicians and NGOs were invited as well as members of the Coyoacan and Iztapalapa boroughs where the works will be taking place. Key amongst the event attendees was Claudia Sheinbaum Pardo, the mayor of Mexico City. Since Dr. Sheinbaum is a proponent of enacting environmental protection policies and projects, and has the necessary background of an environmental engineer to do so effectively, I have admired her work and hoped to interview her for my thesis research on the water crisis in Mexico City. However, given Dr. Sheinbaum's important position and busy schedule, I had little hope of ever scheduling an interview with her. With that said, I was able to spontaneously interview her and several other political figures who are key in water management decision-making due to my ability to attend this event.
I would have missed this opportunity, had it not been for the IU-Mexico Gateway. Before arriving in Mexico City, I had no connections to Mexican politicians, scholars, or NGOs, so the IU Gateway drew upon its alumni network to facilitate my initial eight interviews with Mexican politicians, and arranged for me to be mentored by a well-connected and renown scholar in the field of water management in Mexico City, Dr. Manuel Perló Cohen. With time, I was able to expand my pool of interviewees from the original connections that the IU Gateway arranged. This is how I came to interview and befriend Erick Aguilar, another expert on water issues in Mexico City who works closely with environmentalist NGOs. Due to his civil society connections, he was aware of the event and was kind enough to invite me. I would like to give special thanks to the IU Gateway, Dr. Manuel Perló, his research assistant Jose Alberto Nochebuena, Erick Aguilar, and Alejandro de la Vega of the NGO Club de Patos, for their part in helping me to expand my network of elite interviewees and eventually attend the vital event where I was able to interview Dr. Claudia Sheinbaum, Dr. Rafael Carmona (director of SACMEX), Dr. Marina Robles (Secretary of the Environment for Mexico City), Diputada Guadalupe Aguilar, and various other politicians."
DISTINGUISHED IU VISITORS VISITED THE MEXICO GATEWAY
The IU Mexico Gateway received many distinguished visitors from IU, including: from the Eskenazi School of Art, Architecture & Design, Director J. Irwin Miller Architecture Program T. Kelly Wilson, and professor Jon Racek, an IU MA Student Nate Young, Victoria Collins an IU graduate student (a Tinker grant recipient and Tobias Fellow), La Vonn Schlegel from the Kelley School of Business and Whitney Riley the Executive Director of Corporate Relations at Indiana University.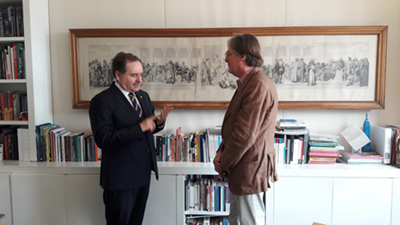 Professor T. Kelly Wilson and Mtro. Mazari at Facultad de Aquitectura UNAM
| | |
| --- | --- |
| | |
| Jon Racek and Lucero Guillen, UNAM Library | Victoria Collins, UNAM Library |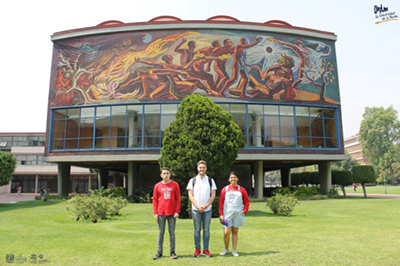 Nate Young, Glass mosaic in Alfonso Caso Auditorium

As part of the Maurer School of Law's Stewart Fellows Program, the Gateway provided support to law students completing summer externships in Mexico. While they were here, the three students held positions at the Centro Mexicano de Derecho Ambiental (CEMDA) and the Instituto para las Mujeres el la Migracion. Through these placements, Maurer students were able to work on pressing issues in immigration and environmental law. While they were in Mexico, the students also connected with Maurer alums currently living and working in Mexico.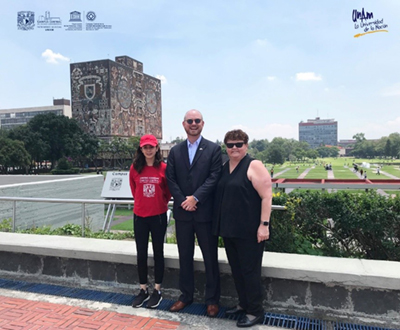 Whitney Riley and La Vonn Schlegel, UNAM Central Campus
UPCOMING EVENTS AT THE MEXICO GATEWAY:
September 17: Workshop Bill Gilhooly in Collaboration with the Instituto de Geofísica at UNAM.
September 12: Lecture at CCH Sur by Peter Tattersfield.
September 18 – 20: 2da. Jornada de Lenguas Mixtecas. (PIRA Award).
October 25 -26: Feria de las Ciencias y la Humanidades, 2019. UNIVERSUM, with participation from the following IU faculty: Javier León from the IU Jacobs School, Angeles Martinez from the IU School of Dentistry, and Dra. Norma Galindo from the Instituto de Nacional de Perinatología (National Perinatology Institute in Mexico) in collaboration with Rodrigo Armijos and Margaret Weigel from the School of Public Health, will present their IU PIRA Award Project,
APPLY FOR FUNDING FOR GLOBAL GATEWAY ACTIVITIES: